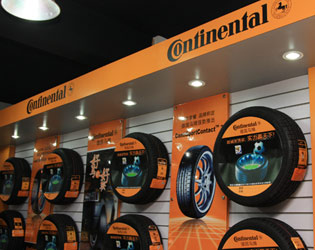 Gasgoo.com (Shanghai June 7) - Continental Tire's sole Chinese production site in Hefei, Anhui is currently undergoing expansion, the Beijing Timesreported today. Following completion of the expansion project, the site's annual production capacity will increase from four million tires to eight million tires. The manufacturer has reportedly invested 145 million euros ($23.49m) in the expansion project.
According to General Manager Jay Dhillon, Conti entered the Chinese market relatively late when compared with rivals Michelin and Bridgestone. The company specifically provides tires for manufacturers in the luxury-class segment, such as Mercedes-Benz, BMW and Land Rover. Fueled by increasing automobile sales, the markets for originally equipped and replacement tires possess enormous growth potential, Mr. Dhillon points out. Conti has signed supply partnerships with several automobile enterprises, including Fiat and Chery's own brand Qoros.
Conti currently possesses over 3,000 exclusive shops in China. The company is adding an average of three shops to its Chinese network every day.